Hablamos Espanol
CALL NOW FOR PRICING
(888) 978-2713
Safety Tips for Working in Cold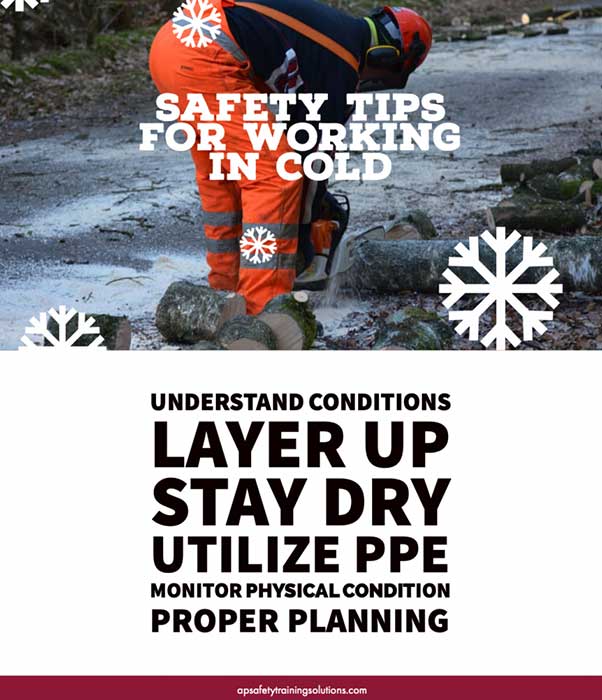 OSHA safety tips for working in cold environments comfortably well preventing stressful situations in cold weather jobs whether you are an employer or employee. OSHA doesn't require businesses to maintain specific temperatures in the workplace. The organization recognizes that a 75-degree Fahrenheit office might be comfortable for one employee, but excessive for another. To protect employees from having to work in uncomfortable temperatures, OSHA recommends that employers have the thermostat between 68 and 78 degrees.
OSHA Safety Law Working in Cold Conditions
OSHA safety law kicks in when temperatures get severe they could lead to heat stress, hypothermia or other hazardous conditions. People who take medicine are at higher risk for temperature-related health limitations. List of OSHA safety tips for working in cold conditions:
Your employer should ensure that you understand the conditions in cold weather.
Monitor your physical condition and your coworkers.
Dress suitably for the cold.
Stay dry in the cold from moisture or dampness.
Always carry extra clothing in case you get soaked.
Drink warm fluids.
Utilize proper planning controls, safe job practices, and personal protective equipment (PPE) given by your company.
Cold Weather Safety Temperatures
Cold weather safety temperatures can cause damage or severe health conditions, like trench foot, which is the result of a long period of time in cold water or exposure to dampness causing frostbite, and hypothermia. In the most hazardous case overexposure to cold weather temperatures, such as freezing water immersion, can be fatal. Signs can include:
Slurred
Speech
Uncontrolled shivering
Confusion
Clumsiness
Preventing Cold Stress Conditions
Dressing properly is important in preventing cold stress conditions. When cold environments or temperatures cannot be avoided, the following OSHA safety tips will protect workers from cold stress conditions:
Wear at least three layers of free fitting clothing.
Layering gives better insulation.
An inner layer of wool, and silk to keep moisture away from the body.
Thermals and layers of clothing will contain natural heat.
Tight clothing decreases blood circulation.
Warmblood requires to be circulated to the limits.
Knit mask to cover face and mouth.
A beanie that will cover ears as well.
A hat will help keep your entire body warmer.
Hats decrease the amount of heat that escapes from the body.
Insulated gloves protect the hands from water.
Insulated and waterproof boots to protect the feet.
Winter Weather Safety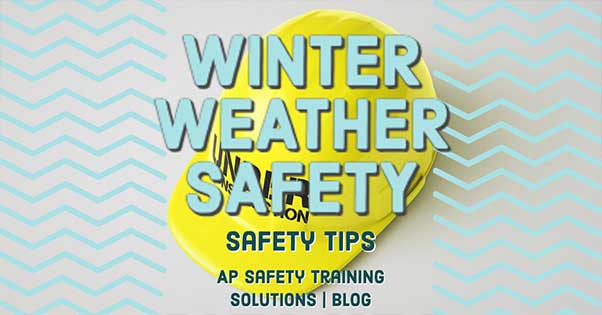 Working in winter weather isn't only uncomfortable, it can be deadly. Frostbite, numbness, dehydration, and hypothermia are valid concerns from cold outdoor weather temperatures. Working outdoors this cold winter, be knowledgeable of the hazards, and stay safe.
Stay well-fed by eating and drinking adequately
Make certain to take enough fluids, as you parch faster in cold weather conditions. Dehydration causes headaches, dizziness, including weakness, and it's crucial to stay observant outdoors. Having enough food during the day, particularly fats and carbs, is also essential. The body uses those nutrients as energy to stay heated in freezing temperatures.
Well rested
Working in the outdoors during wintertime can become challenging. This can raise the potential risk for safety accidents. Being well-rested means you can stay alert on the job when weather conditions make jobs more hazardous.
Plan winter breaks
Just like normal breaks at work, the body needs to take breaks from the cold. Layout warm-up times during the day to avoid paralysis, numbness, and shivers.
Stay dry
Wet clothing can quickly, make things chilly fast. It's important to stay as dry as possible in the cold. Wear a windbreaker on outlers to draw moisture as you work. Waterproof gear acts as a shell to prevent layers underneath from getting wet. Wet clothing will become ice or worse.
Dress attire for cold conditions
Layers of clothing is the key to keeping you warm but not too hot when temperatures change. Decent gloves, socks, and footwear are required. Choose headwear that keeps your head and ears warm.
Learn more about our Cal Osha Compliance Training Program and get a free quote at no cost. Contact us today for more questions and prices at (888) 978-2713.