Hablamos Espanol
CALL NOW FOR PRICING
(888) 978-2713
OSHA Scissor Lift Harness Requirements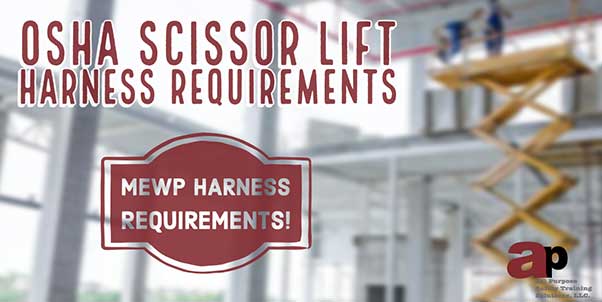 It is critical to be aware of the OSHA scissor lift harness regulations when working at a great height. There are health and safety hazards in the workplace that can be addressed or reduced. The most typical Mobile Elevating Work Platform (MEWP) enables users to produce consistent access to aerial places.
MEWP's are commonly utilized in development or production. However, 1 in 5 construction sites operate with health and safety standards, managers need to guarantee the safety of their workers. Somebody who operates Mobile Elevating Work Platforms (MEWPs) without permission, adequate training, or who would knowingly misuse MEWPs, expose themselves, and those around them to potential accidents.
MEWP Harness Requirements
Section 1926.453(b)(2)(v) of the aerial platform standard specifies the standards for MEWP harnesses. Operators in aerial platforms and boom lifts must be tied off. The aerial platform standard (1926.453) pertains to equipment covered by ANSI A92.2 (1969). Are you an employee that needs aerial lift training? Contact us today at AP Crane Training and let us help.
MEWP Uses
MEWP uses in the industry varies across different companies on the type of business for example here is a list below:
arboriculture
building and construction
bush and forest industries
electrical supply and distribution
film and television
port operations
advertising
stock picking
railways
telecommunications
warehouses
OSHA Scissor lift Requirements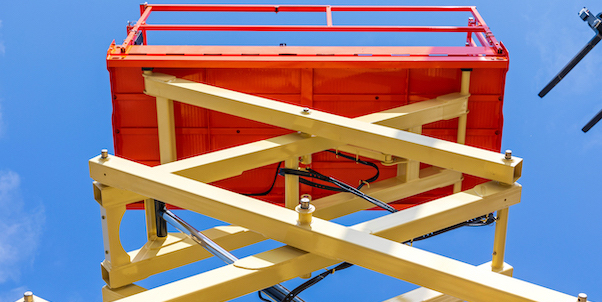 Operators do not have access to or are required to follow OSHA scissor lift rules. OSHA recommended that operators be either tethered down or protected by guardrails. Scissor lifts are not covered by an OSHA or ANSI standard. The criteria for scissor lift harnesses are not covered in the MEWP harness requirements section. The scaffold standard, 1926.451, contains the OSHA scissor lift regulations.
The options to tie-off are listed below:
Restraint System
Positioning Device System for Construction
Fall Prevention Systems for Construction
Restraint System
A restraint mechanism protects the operator from being threatened by any slide. If the operator is restrained, either a body belt or a harness may be used. Drop protection from an aerial platform or a boom lift, often known as an elevating work platform, necessitates the use of restraint. The company must ensure that the lanyard and mount are built such that the operator is not at risk of falling any distance.
Positioning Device System
A total body belt may only be used with a positioning device system. Employees typically employ this strategy since they may require a positioning gadget. The method is described in section 1926.500 of the building standards for fall protection as a body belt or body harness fitted to allow an employee to be airborne on an elevated vertical surface, such as a wall (or a pole), and function with both hands free while leaning.

As a result, in construction work, a positioning tool may only be utilized to protect an operator on a vertical work surface. These devices may allow for a fall of up to 2 feet. Because construction workers in bucket trucks, scissor lifts, and boom-type elevating work platforms are on a horizontal surface, a positioning device is required.
Fall Prevention Systems
A fall prevention system is a device that enables a limited drop. A body harness must be worn in these systems during construction work. A fall protection system can only be used where the aerial lift or scaffold is designed to withstand vertical drops and protect from heights. Fall prevention systems used in construction must meet the 1926.502(d) standard. This requirement prohibits the use of body belts in fall prevention methods and instead demands the use of body harnesses.
Learn more about Aerial Lift Fall Protection.
Common Boom Lift Accidents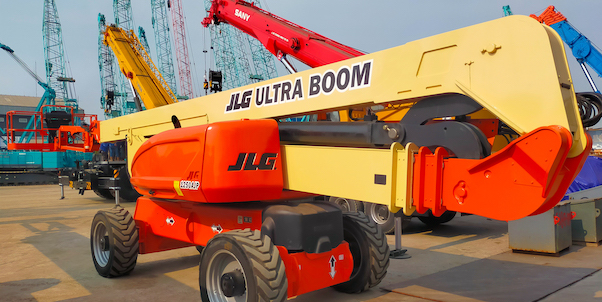 Because of the nature of working at a distance, boom lift accidents are more common than scissor lift accidents. The most prevalent MEWP mishaps in the workplace can be attributed to the equipment itself or to outdated training. Staying up to date with the latest training ensures a higher percentage of safety. The following are some of the most typical reasons for MEWP accidents:
Electrocutions
Falls from Aerial Lifts
Aerial Lift Tip-Overs
Getting Caught Between the Lift and an Object
Being Struck by Objects Outside the Bucket
Causes of MEWP Accidents
Equipment failure
Not understanding the operator instructions
Poor training and supervision
Not thoroughly evaluating the hazards and risks of the equipment.
Read an article about Mobile Elevated Work Platforms Classified into 3 Types.