Hablamos Espanol
CALL NOW FOR PRICING
(888) 978-2713
Online Webinar Courses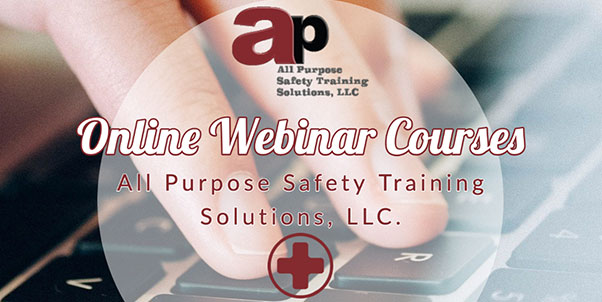 Learn from the experts at All Purpose Safety Training Solutions, LLC. with our online webinar courses that can be offered nationwide. We are helping the health and safety industry through webinars online. We are here to reach businesses that are in need of health and safety t4raining during COVID times. You can also get instructor training courses that can be beneficial for employers on-site. Webinar courses will be presented through a network display that is broadcasted using a live video program that is simple to set up on your computer.
Receiving goals and activities intended to engage members in an online atmosphere. All of our sessions will be guided by skilled instructors with practical-world expertise in their corresponding fields. Online webinars allow large groups of participants to join a COVID free online webinar training.
All Purpose Safety Training Solutions, LLC.
We have consistently been one of the most recognized health and safety training companies in the United States before and during the COVID 19 pandemic. We offer free quotes at no cost. Being located online for many businesses offers the opportunity to meet the standards and regulations. We promote the development of health and safety training requirements through these tough times.
Learn more about a Community Safe Business During COVID-19 Pandemic
All Purpose Safety Training Solutions, LLC. webinars online are proven to be successful with high passing rates. Our webinars are live and we encourage class participation to ask questions during the course and not only toward the end. Our online webinar courses will serve the identical agenda as our in-person courses.
We will present documentation regarding attendance at your particular business. We encourage writing down questions so when you are in class so that you can ask to get clarity on the topic. Our training instructors have actual life experiences that people can relate to real-life challenges and goals.
Health and Safety Training Courses
For more information regarding online webinar courses for health and safety training. For all safety training categories visit apsafetytrainingsolutions.com. Give us a call at (888) 978-2713 or fill out our contact form so we can further assist with a course that is right for you.